An increasing number of companies in Malaysia are recognising the benefits of having a blended workforce, which comprises the commitment and consistency in the long run by full-time employees and the agility of freelancers and part time workers. 
On-demand workers offer advanced skills and experiences that are crucial to organisations, regardless of their tenure. Business leaders and recruiters are gradually becoming more familiar with the concept of a blended workforce.
What is a blended workforce?
A blended workforce comprises of full-time employees, part time employees, independent contractors and skilled gig workers. 
It is a hybrid workforce model where employees are allowed to work with a diverse business structure — from work from home/remote to microsites or traditional office sites. 
This blend of virtual and office-based employees collaborating and working seamlessly as a team despite scattered geographical locations can result in increased efficiency and productivity.
Although most companies in Malaysia moved to a work-from-home model in 2020 due to the compulsion of the pandemic, many full-time employees have adjusted well to remote work and found it convenient.  
Gen Y and Millennial employees perceive working from home as a necessity. The constant demand for talent now makes working from home a differentiating and attractive feature of a job.
Blended workforce management brings broader skills and agility to businesses and provides the flexibility to align employees with various projects without geographical restrictions. 
The right blend of contractors, freelancers, part time employees and consultants collectively constitute the gig economy.
This staffing approach depends on the digital transformation and technology integration, which give them access to company resources. 
The HR teams can partner with staffing agencies to identify potential workers with advanced skills for upcoming projects. Besides, part-time workers can work as alternative staffing solutions for a company to create an agile workforce that can work from different locations. 
The difference between a gig worker  and full-time staff
The main difference between gig workers and full-time employees is the nature of their employment and benefits. 
A gig worker is also known as an independent contractor. It means the individual performs a specific job within a stipulated time frame for a client. A gig worker can work on multiple tasks given and allow employers to hire temporary help within a budget.
A gig worker's work has the following features:
Liberty to choose companies to work with;

Freedom to choose from different types of jobs;

Decides his/her work schedule with flexibility; 

Does not receive any benefits, annual vacation, or sick leave;

No job security.
GoGet gig workers, also known as GoGetters enjoy additional benefits of contributing to their EPF fund and an additional option to save with POD Savings with the income earned on the GoGet platform. 
Conversely, a full-time employee gets into a contract for a permanent job with the employer and performs certain responsibilities within stipulated hours per work week.
Full-time employees have one employer, and they have job security. The employer bears the expenses of onboarding and training the employee, along with providing a range of benefits, such as insurance, vacation pay, sick pay, and retirement benefits.
Employers also withhold taxes and other government regulations like the provident fund of full-time employees from their paychecks.
The characteristics of a full-time job are below:
Working with one organisation;

A fixed monthly salary;

Specific job description and designation; 

A certain level of job security;

Benefits, vacation, and sick leave;

The schedule of working from a specific location.
GoGet Recruit, allows businesses to hire targeted semi-skilled part timers for longer term,  as part of their organisation's full time workforce. Labour-intensive business industries like F&B, Retail and Wholesalers typically leverage on a mix of short term gig workers and long term staff.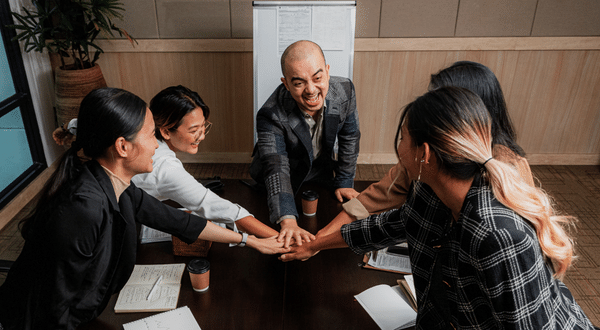 BilaBila Mart, a fast growing local retail chain of grocery stores requires intensive hiring and uses GoGet to hire by the hour, or longer term.
What needs to be considered when managing a blended workforce?
Whether your business has transitioned to a new staffing strategy with blended teams that combine both office and remote workers, there are many changes you can make in the company culture to make it as inclusive as possible. 
Stay connected with everyone
Managing a blended workforce is drastically different from managing full-time employees who work from the same geographical location. 
Building team rapport is also crucial to keep gig workers and employees connected with each other to work as a cohesive unit.
Set a clear business objective
An organisation needs to hold all its workers accountable for their work and responsibilities toward a common business objective. 
All full-time employees, gig workers or contractors need to realise their respective roles, regardless of their work hours and location. 
Promote collaboration
You need to ensure remote workers get support from full-time employees and rely on them regarding their work. 
You can hold virtual meetings and encourage collaboration between both types of workers. Besides, you also need to figure out which jobs are suitable for those workers and the process to deliver them. 
Evaluate performance consistently
An organisation must measure the performances of full-time staff and gig workers and redefine their goals to achieve long-term success. 
It all depends on how well an organisation makes the most of a broader talent base comprising both in-office and gig workers or how they perform as individuals in terms of agility.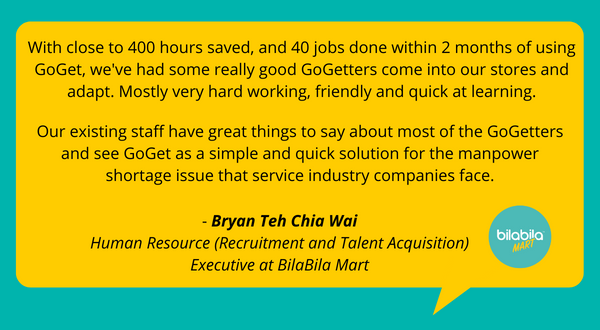 How does a blended workforce benefit employers?
A blended workforce brings in some key benefits for employers. Here they are:
Flexibility and on-demand resources
A blended workforce helps a company scale up or down based on its requirements. 
All-in-one manpower solution like GoGet allows the organisation to meet its resource needs extra pairs of hands for a few hours or a day, especially during peak season or to fill in for sick employeesIf the organisation needs to scale up, it can also post for a long term position via GoGet Recruit, and get applicants within minutes.
Agile workforce
A blended workforce model enables an organisation to access skilled resources with specialised skills outside their full-time employee knowledge base and achieve agility.
Reduced staffing costs
Due to company cutbacks, an organisation might hire gig  workers who do not typically get employment benefits such as health insurance, bonuses, paid time off, and more. It helps the organisation budget for extra help without bearing the costs associated with hiring full-time employees. 
Lower operating costs
Hiring gig workers as and when needed helps an organisation fulfil its contingency requirements without a physical office space and reduces operating costs and other overhead expenses.
Happier workers
Remote/gig workers may be happier due to their independent work, such as flexible work hours and weekly/monthly schedules. Additionally, they also enjoy more control over their work-life balance.
Looking to hire extra help during peak seasons? GoGet is here to provide you with a pool of over 40,000 skilled and talented gig workers known as GoGetters. Hire by the hour, or for a long-term, on-the-go all-in-one GoGet web app.