One of the most popular and effective hiring methods is advertising job openings.   
As an HR recruiter, learning a few useful advertisement techniques can help you keep up with your hiring goals.
Let's see some of the best ways to advertise a job vacancy with examples, which might work for you.
What does advertising for a job vacancy mean?
Advertising for a job vacancy means when the HR team or an individual recruiter is actively looking for new talents to fill specific positions. To identify the right candidates, a recruiter implements an advertising strategy to reach out to potential candidates. 
In most cases, hiring managers post jobs on popular job portals with a job description of the position, including core responsibilities, qualifications, skills required, and benefits. 
Over the past decade, there have been notable changes in the recruitment industry by engaging with people on different social media platforms to attract potential candidates. 
What are the key elements to include when advertising a job vacancy?
Job title and description
First, you need to mention a job title so potential candidates get a clear idea about the vacancy. The job description should outline the core responsibilities and daily tasks. 
Qualifications & skills required
Specify the required educational qualification and skills for the position to successfully perform the relevant job tasks. 
Experience
If you are seeking experienced candidates, your job ad should mention the years of experience required. 
Job location
Candidates often seek jobs in specific locations and filter their online job searches. You can target candidates if their location preferences match your requirements. 
Salary
Specify a salary range for a job position based on industry standards. It will create more opportunities for negotiations.
Benefits 
Besides attractive compensation, candidates also look for benefits, such as health benefits, vacations, incentives, and others.
Work hours
Mention whether the job ad is for a part-time or full-time position, along with total work hours per day and week. 
How to apply
Give details on how a candidate can apply for a position. If possible, mention an application link for convenience. 
Contact details
Mentioning the email ID or phone number of the hiring manager will help candidates contact for clarification.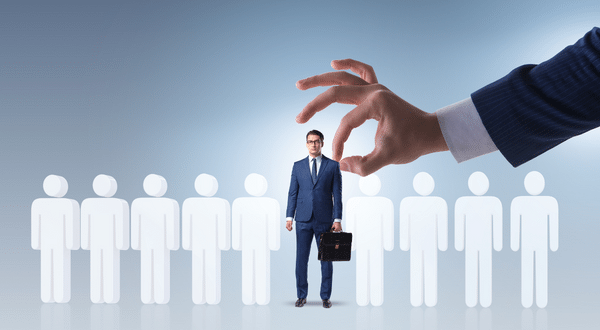 What are the methods of advertising a job vacancy?
Employee referral  

You can get candidates through an employee referral post asking your employees to refer their acquaintances for the job. This process can be incentivized to reward employees. 

Internal job posting  

Instead of seeking candidates outside you can get quality in-house talents through internal job postings.

Social media ads 

You can post short and catchy ads on LinkedIn, Twitter, Facebook, and Instagram to get the attention of your target audience.

Video advertising  

Studies show that video content is 1200 per cent more effective than other types of advertising. By creating an engaging video ad, you can get a lot of eyeballs.

Print advertising 

Despite digital dominance, print advertising still works. By posting job ads in newspapers and business magazines, you can get the attention of potential candidates. 

Brand advertising  

MNCs can attract prospective candidates through brand advertising. With a strong branding effort, these companies gain prominence in the marketplace.   

Billboard advertising 

Billboard advertising for vacancies is not too common these days. This type of ad conveys an underlying message in a creative or quirky way.   
What is the cost of advertising a job vacancy in Malaysia? 
The cost of advertising a job vacancy in Malaysia is between RM 200.00 and RM 1,500.00. The cost of advertising on a few leading sites are below:
GoGet Recruit: The price per job posting on GoGet Recruit is RM148. You can get an exclusive offer of RM99 on your first listing. 

JobStreet: From RM487 per month.

Indeed: Ranges from RM23 per day to RM471 per month. 

Hiredly: Starting from RM209 per month.

Maukerja: From RM600 onwards.
How to write an effective copy to advertise a job vacancy - Examples 
Example 1: 
A job ad for a Kitchen Helper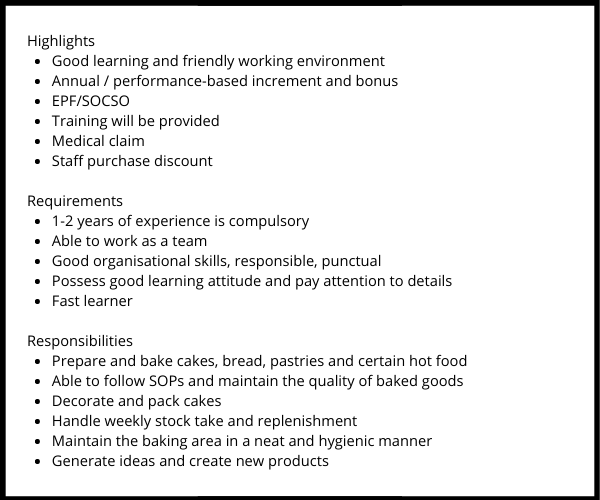 A job ad for a Packer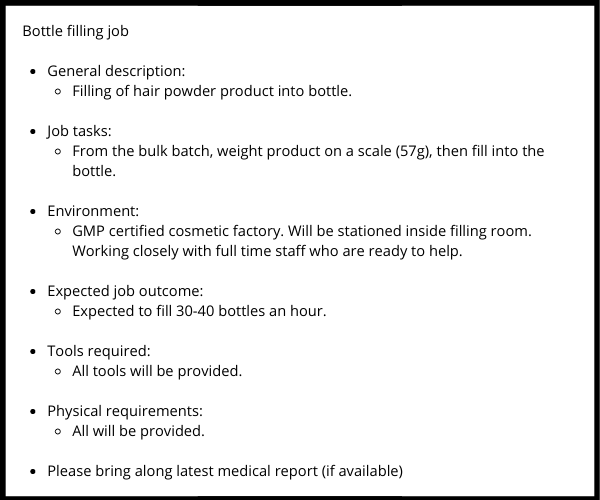 Example 3: 
A job ad for hiring Retail Staff