Employment in Malaysia mainly revolves around either part time or full-time contracts. Workers with part time contracts generally work on an ongoing basis for specific hours in a week and get paid either by the hour, per shift worked or per task completed.
Conversely, employees with full-time contracts work throughout the week and get a fixed monthly salary.
Definition of a Part Time Job 
The Employment Act 1955 of Malaysia defines a part time job as when a person enters into an employment contract or a service-based contract with an employer over a certain time period. The average work hours per week are more than 30 per cent but do not exceed 70 per cent of regular work hours (48 hours) per week.
If you are looking for part time or even longer term jobs, you can easily filter and find a vast variety of jobs on GoGet. 
Definition of a Full-Time Job
The base of a full-time job is an employment contract in which an employee works on all the scheduled business days for fixed hours. The employer needs to pay the employee a fixed monthly salary for the work. 
The employer also has legal obligations to provide various benefits, including health insurance, annual leaves, provident funds, and bonuses in an agreed fiscal period. 
For example, the regular working hours in a full-time job in Malaysia are 8 hours a day and 48 hours per week. If an employee needs to work overtime, he/she must be paid 1.5 times the hourly wage rate.
The Difference between a Part Time and Full-Time Job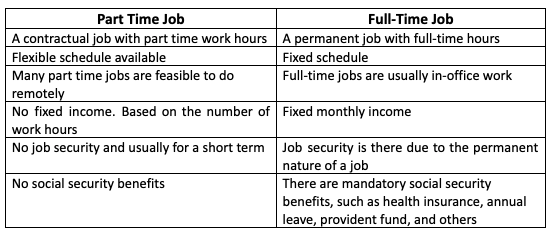 Pros and Cons of Part Time and Full-Time Jobs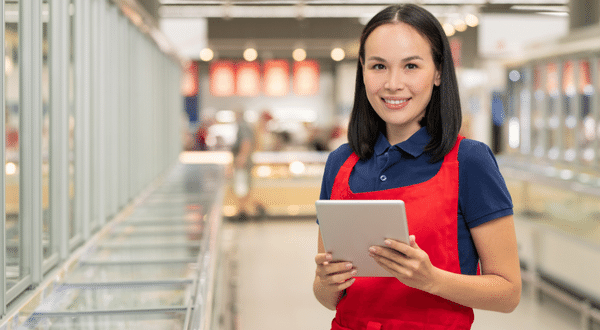 Part time job
Pros:
Easy available

Get to experience jobs from various industries

Flexible working hours

Able to work with multiple companies at the same time
Cons:
Workers often have to juggle multiple assignments, which may affect the work quality

Fluctuating compensation

Workers have no obligation to be loyal to their employers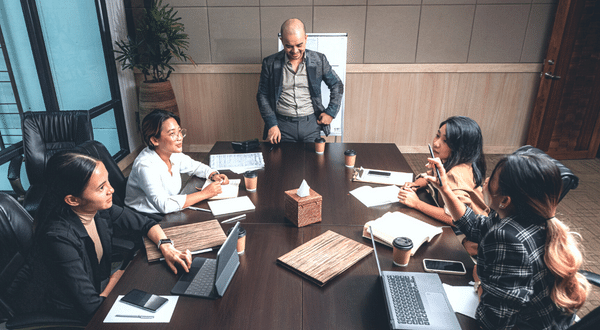 Full-time job
Pros:
Cons:
Fixed work hours

Can become a financial liability if the company doesn't perform

Complacency may crop up due to stability

Difficult to have a work-life balance