In a constantly evolving business landscape, organisations need to be smart and precise about their strategic workforce planning, as it will help achieve their business goals.
During the workforce planning process, you need to consider the future skills of your workforce, including the existing employees, who would require further development, and the talents you will hire in the future. 
The first step in developing a realistic and effective workforce plan is to understand an organisation's short-term and long-term business goals. HR leaders need to collaborate with top executives to get insights into strategic objectives for their HR planning that will help formulate a strategic workforce plan. 
In this post, we will discuss workforce planning definition, workforce management process, strategic workforce planning tools, workforce planning examples, and more.
Ways to plan your workforce strategically
1. Consider your organisation's long-term goals
In the first step, you need to figure out where your company is heading in the long run and what it wants to achieve through its human resource planning and recruitment plan. 
It is crucial to get all the stakeholders on board before you plan your workforce strategically. You will need inputs not only from HR leaders, but also from C-suite, operations, finance, and line managers.
2. Do staffing needs assessment
What does your staffing plan look like right now? You need to know what kind of skills your employees possess before workforce allocation. 
Also, determining goals, analysing staffing patterns, and reorganising are the answers to the question "How to build a staffing plan?".
Can your business use part timers for seasonal surge for manpower needs? If yes, how does temp staffing complements your whole staffing plan? What type of scopes would part timers be a solution under different departments such as Logistics, Operations, Sales / Marketing, and Administration?
3. Identify future skill gaps
When mapping out your current workforce, you also need to identify future skills gaps. Advanced planning for employees who will retire is a good staffing plan example. The HR can figure it out through a skill gap analysis, and based on that can start thinking about how to fill in those gaps. 
Overall, the following are the ways to strategic workforce planning: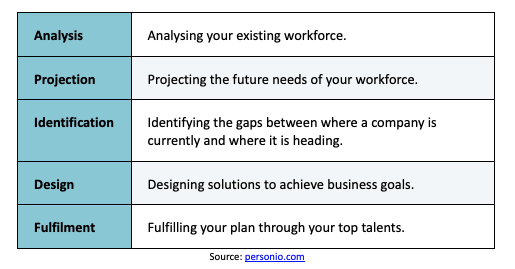 What is the definition of workforce planning?
Before everything else, we need to know "What is workforce planning?"
Strategic workforce planning is defined as the process of analysing an organisation's existing staffing levels and projecting its future hiring needs. The planning also ensures that the organisation is neither overstaffing nor understaffing, and there are no skill gaps when hiring new staff. 
Strategic workforce planning also helps to identify the skill development needs of your current and future employees and align them with your company's strategic goals.
The importance of workforce planning
Strategic workforce planning is important for organisations due to the following reasons:
1. Achieves financial goals
Finance and human resources are great allies when it comes to business planning. Regular communications between these two departments improve the connection with employees, processes, and technologies.
The finance department needs to analyse people's data to find out how the workforce is contributing to the organisation's financial goals. Using those insights, HR can hire strategically, allocate resources, and initiate programs to nurture talents.
2. Encourages collaboration
One of the keys to workforce planning is collaboration, which encourages the participation of employees across the organisation. Inter-departmental connections bring in various cross-functional insights, broaden knowledge, and improve teamwork.
3. Improves employee experience
Employees are at the heart of effective workforce planning. When an organisation does that keeping its employees in mind, it caters to their well-being and, eventually improves their experience.
Best practices for workforce planning
Strategic workforce planning is crucial to streamline hiring and keep skill management cost-savvy, and they are possible by implementing some of the workforce planning best practices: 
Strategic workforce planning map: The workforce map shows how workforce planning aligns with the bigger goals, like the organisational strategy.
HR analytics tool: This tool gives a complete picture, including employee benefits, employer taxes, and other non-wage expenses. Based on this data, HR determines employee performance and compensation.
Data tracking for planning workforce demand and supply: You can collect and track data, including FTE and headcount, attrition and retention rate, employee skills, internal mobility rate, and hiring for critical positions.
9-Box grid: The 9-box grid or HR3P matrix maps employees' potential and performance in one model. The grid looks like this:
HR dashboarding: Conceptually, the HR dashboard collects data from different sources, such as the applicant tracking system, payroll system, and other HR tools and helps calculate the metrics.