These days, many people are looking to earn some extra cash, especially after how the pandemic constricted the mainstream economy. Now, the booming gig economy is providing people various gig works to generate a steady income. 
Gig works are a hassle-free way to earn money consistently without the inflexibility and limitations of a 9-to-5 job. Currently, Malaysia has become a trend-setter, where its Employees Provident Fund reported in 2019 that 4 out of 10 Malaysian workforce would be a gig worker in next 5 years, which is double of global average. Department of Statistics Malaysia indicated nearly as many as 4million gig workers alike, in 2020. 
Finding genuine gig jobs can be a challenge, and people who are just starting, tend to ask "how to make money online part time?" This is where various gig economy platforms play a crucial role. These services enable people to get online part time jobs in Malaysia.
In this post, we have listed the top five apps to find gig work in Malaysia. These apps help people across all age groups find gig work in retail, grocery delivery, and other contract work. Check our list of the best gig apps below, and find the best online part time jobs that fit your skills and schedule. 
The following list best five apps in Malaysia that can help you get work from home part time: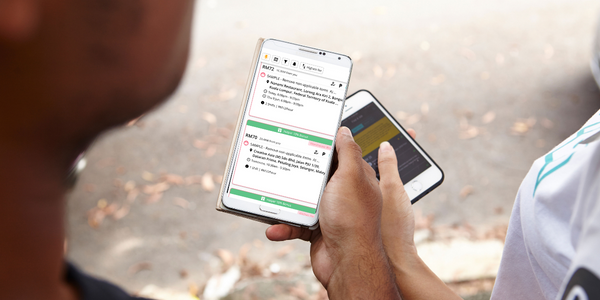 GoGet is one of the best and fast-growing community-based gig apps that help to get online part time jobs for students and others in Malaysia. 
Currently, GoGet has 31,000 verified part timers who get limitless opportunities in various flexible gig jobs, depending on their skill sets. At the same time, the app provides companies with access to a vast and reliable talent pool.   
Various GoGet jobs are available during the weekend and at night
People seeking gig work or part time jobs can take those up according to their schedule. The community helps GoGetters achieve higher productivity, connectivity, and flexibility through different types of jobs across industries on the weekend or at night.
GoGet provides unlimited opportunities through online jobs available in Penang, Klang Valley, Johor Bahru, and other parts of Malaysia.
What are the different types of jobs available on GoGet's Platform 
There is a wide range of part time jobs available on GoGet, including packer, kitchen helper, floor staff, warehouse worker, admin assistant, and dispatch.
Adecco
Adecco is another leading staffing platform in Malaysia. Adecco helps hundreds of Malaysians find flexible or part time gigs every day. The platform has nearly 2,500 on-demand gig workers ready to put their skills to work.
The consultants of Adecco understand the need of Malaysian people. They also feel the pulse of the market. 
JobStreet
JobStreet is a job listing site that allows resume upload and connects job seekers with employers. Its website and network spans across Asia. It offers part time job opportunities, with bulk of job vacancies being full time positions. 
FastJobs Malaysia
FastJobs is a prominent mobile gig app that connects people seeking non-executive jobs to reputable employers quickly and conveniently.  
By tapping a finger, job seekers can apply for thousands of part time and contractual jobs available in Malaysia, across all industries.
Jora
Jora is a simple and intuitive part time job app that helps people get part time/gig work throughout Malaysia. Unlike traditional job sites, job seekers can search for thousands of flexible work opportunities.
What are the different types of jobs available on all the listed platforms?
Adeco: Accounting & Finance, Administrative & Office Support, Contact Centre, Engineering & Technical, Manufacturing, HR, Information Technology - Infrastructure, Sales & Marketing, Supply Chain & Logistics.
JobStreet:  React native developer (Mobile App), programmer, part time marketing executive, operations support coordinator, product marketing support, handover consultant, junior teacher, and others.
FastJobs Malaysia: Part time outlet crew, barista/kitchen helper, warehouse staff, part time tearista, retail assistant, production operator, real estate negotiator, and others. 
Jora: online part time jobs, real estate negotiator, part time sales assistant, promoter & surveyor, part time retail assistant, Junior attendant cafe, par time tutor, and more.
If you are a student, check out top 10 part time jobs that students take up during their free time.