Meet this month's Top Referral GoGetter, Ainna Syasya, whose TikTok went viral with over 500K views! Learn some useful GoGetter tips from her by watching the interview here.
A: Hi, my name is Ainna Syasya. I am 23 years old, from Pontian, Johor and I am currently staying in KL because I just graduated from my studies. So how I got to know about GoGet is because of one of the TikTok videos on my FYP (Final Year Project). 
A: So how did my video go viral? I think I didn't expect it to go viral because I just wanted to share the app. So, the video got viral because of the interactions of people with that video. 
A: Please read the descriptions carefully because this is a one-time job. There are ratings, so you have to do well. Communicating well with the posters is the most important thing to be a GoGetter.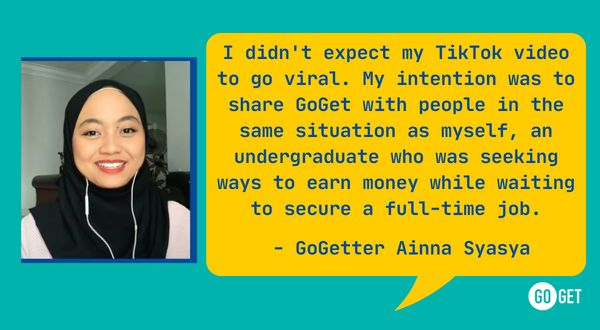 A: I can earn money and do a part time job using my own free time. Some of the posters are very kind.
A: It was when I worked in a bakery. It was memorable because the staffs were very very friendly. The job was easy and understandable. So if you are a first-timer you can also ace the job.
A: I really encourage you guys to refer because, other than making money from doing part time job, you can also earn referral fee. So one thing you can do is to do video like me, or just share it to your social media. Share it to your friends and family, they might need the extra money. Good Luck!
Watch all videos from GoGetter Ainna Syasya's interview here.