In our October Spotlight, we are excited to introduce you to a top-rated Helper GoGetter, Lai Chang Shiang. Read on to learn more about him and what makes him an excellent GoGetter. 
Lai is a full-time university student who does GoGet on the side. During the COVID-19 pandemic in 2020, movement restrictions were implemented and everything was moved online, including Lai's university classes. In search of a part time job, Lai came across GoGet via a blog post and that was how his journey as a GoGetter started.
"I like the concept: earn money and help the community. That's why I downloaded the app." That was GoGetter Lai's answer when we asked him what motivated him to become a GoGetter. We are delighted that GoGetter Lai's values fit with what we care about as a platform that empowers the community to earn and help each other.
When Lai became a verified GoGetter in 2020, his very first job was working as a Picker Packer for Fashion Valet. He has completed over 53 jobs since then. GoGetter Lai shared that one thing that keeps him coming back to work there is the working environment. "Manager dan staff kat sana semua nice. Mereka selalu smile at GoGetters semasa kerja," he adds. Along with the great work environment, GoGetter Lai also enjoyed getting to know other GoGetters who worked with him. The GoGetters he met come from all walks of life, and he has gained new experiences and knowledge through their interactions. Isn't it incredible that a GoGet job helps you earn money while also building connections with others?
Last but not least, we asked GoGetter Lai to leave some advice for other GoGetters who would also like to earn part time income through GoGet. The first thing he said was, "Always be ready to help the poster." GoGetter Lai placed great emphasis on how GoGetters should always be ready to accommodate Posters and help them as best as they could. He also advises other GoGetters to never be late for a job. "If something urgent happens, call the Poster directly, and most of them will understand," he explains. GoGetter Lai ends his advice by reminding others to always keep a positive attitude while working so that when you complete a task, you can really feel satisfied that you gave your utmost effort.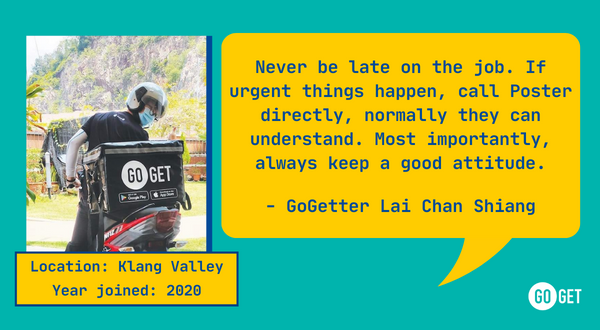 Thank you for helping out the community, GoGetter Lai. Keep up the good work! We are proud to have you as a member of our community and we hope that you will continue to inspire others in the future.
Inspired by GoGetter Lai's experience? Check out the GoGetter app now to see available Helper jobs! Not only that, there will be more exciting jobs coming during 11.11, including picker/packer, warehouse helper, and florist assistant. Stay tuned! 
P/s: Do you know a GoGetter who deserved to be spotlighted? Or do you think you have what it takes to be spotlighted?
Send your nomination (or you can also nominate yourself) in this form here. We will contact you should you be shortlisted and featured in next month's GoGetter Spotlight. There will also be a mystery prize waiting for you & your nominee*.
*Terms & conditions apply*
More information can be found here.