For June's GoGetter Spotlight, we are proud to introduce you to our diligent full-time student GoGetter, Mohammad Hakeem or better known as Hakeem Zaideen. Let's get to know GoGetter Hakeem a bit more!
As a full-time student, Hakeem's motivation for joining GoGet is to earn instant income to help support himself and his studies. Hakeem shared that before he discovered GoGet and had a part-time income, he only ate once a day in order to save money. 
After joining the community as a GoGetter, he quickly realized that it was possible to earn a steady income each month even as a student. He is happy now because he no longer has to starve himself and he is able to buy things that can help him with his studies and daily life.
Also, as an avid self-learner, he really enjoys doing Helper jobs because he can learn new skills and gain a lot of knowledge. Hakeem would not have imagined he would now be capable of dishwashing, knowing how to handle fragile flowers properly, or be able to lift heavy objects. Doing Helper jobs also allows Hakeem to stay active, which benefits his health. In addition, Hakeem explained that as a GoGetter, he has met people from different walks of life, gained new friends, and learned life skills from them.
"I love being a GoGetter. GoGet jobs are so flexible and rewarding!" says Hakeem.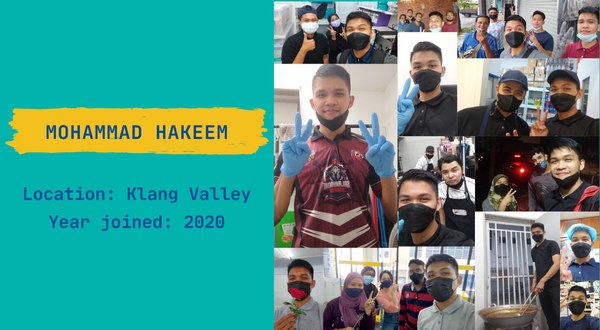 In response to the question about his favorite GoGet job, Hakeem said he loves doing all types of jobs. Despite this, he is especially fond of the Helper jobs at Family Mart where he gets to do tasks such as restocking and replenishing items. He finds those tasks to be very calming and therapeutic as it helps to rest his drained brain after studying.
GoGetter Hakeem has completed multiple Family Mart Helper jobs until he is now confident enough to start the job right away without much guidance. Hakeem also shared the other benefit of working at Family Mart is that during breaks, he is able to try many delicious foods and drinks. Yes Hakeem, we all agree that Family Mart snacks are yummy!
We got GoGetter Hakeem to leave some advice for other GoGetters who would also like to earn part-time income through GoGet. Firstly, he advices every GoGetter to have a clear daily earnings target. For him personally, Hakeem usually tries to achieve an average of RM100 per day. 
Secondly, he shares that it is important to train yourself to be quick in adapting to your surroundings and learn the skills needed quickly in order to do your job well. This can be done by observing how other experienced people do it and don't be afraid to ask for help. "Lastly, stay hydrated, eat well, and spend your energy wisely. Staying fit and healthy is the key to doing your job well", he continues. Hear that fellow GoGetters? Work hard, but don't forget to take care of yourself too!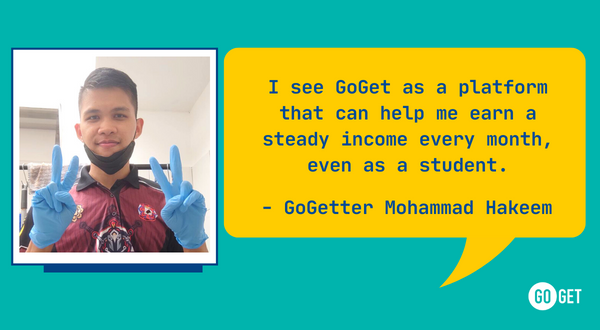 Thank you so much for the beneficial sharing, GoGetter Hakeem! We are proud to have someone as diligent as you in our community. We hope that you will continue to achieve success in your studies and your career as a GoGetter. 
Are you also a student or someone who has a full-time career but wants to earn a side income? There are plenty of part-time Helper jobs waiting for you in the GoGetter app! Go check it out and claim one today. Enjoy an instant 10% bonus for every Helper job completed while you explore new experiences. Find out more here.
P/s: Do you know any remarkable GoGetter that deserves to be acknowledged? Or do you think you are the one who should be chosen instead? 
Submit your nomination using this form here (self-nomination is allowed). We will contact shortlisted nominees and they will be featured in the next GoGetter Spotlight. An exciting prize awaits for those who nominate and also the nominees*. 
*Terms & conditions apply*