Happy New Year 2022, GoGetters! May the new year open doors for more opportunities. To celebrate the first GoGetter Spotlight of the year, this month we will be featuring our best helper GoGetter, Ahmad Shafwan. He has been GoGetting since 2018 and has claimed 141 jobs.
Let's get to know GoGetter Ahmad Shafwan and what motivates him to do GoGet jobs.
Ahmad Shafwan is a GoGetter from Klang Valley who enjoys doing Helper jobs and does dispatch jobs with a bike bag. Since becoming a GoGetter, he has worked in a variety of roles, including being a personal shopper, floor staff, picker and packer, and kitchen helper. Shafwan is clearly a multi-talented GoGetter who isn't scared to take on challenges.
In response to the question "Tell us about yourself", GoGetter Shafwan articulated himself in three words: "Mesra, Tahan Lasak, Bersemangat", which is translated to "Friendly, Resilient, Enthusiastic".
Through GoGet, GoGetter Shafwan has had the opportunity to work with popular brands such as TGV Cinema as front receptionist and Fashion Valet as warehouse helper. Besides that, he is also one of the top GoGetter for Bites Shop for their picker & packer jobs. GoGetter Shafwan shared that one of his motivations that fuelled his enthusiasm is the experiences that he gained from working in various fields of jobs.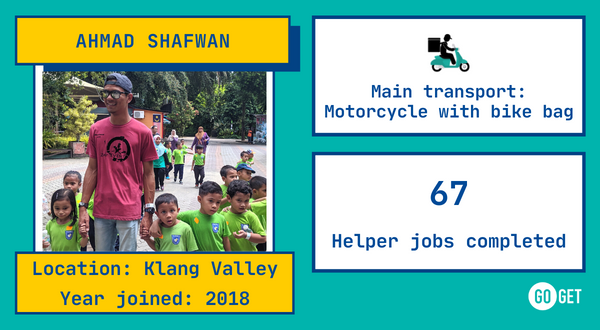 Those experiences are valuable to him because he can improve his working skills and get the opportunity to meet many kind and friendly people. In his interview response, GoGetter Shafwan promised to try his best in every job he takes.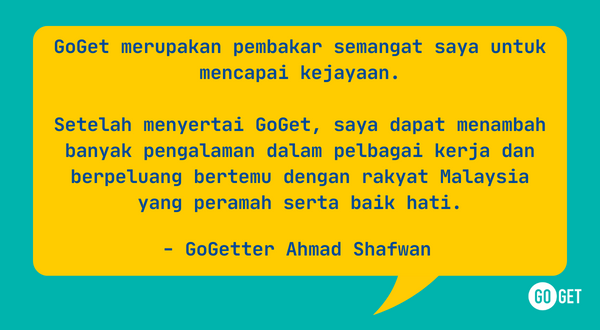 That's the spirit, GoGetter Shafwan! Thank you for all your hard work and we hope you will achieve more in 2022. 
We wish GoGetters all the best and at GoGet, we are committed to support and inspire GoGetters to be the best version of yourself.
P/s: Do you know any remarkable GoGetter that deserves to be acknowledged? Or do you think you are the one who should be chosen instead? 
Submit your nomination using this form here (self-nomination is allowed). We will contact shortlisted nominees and they will be featured in the next GoGetter Spotlight. An exciting prize awaits for those who nominate and also the nominees*. 
*Terms & conditions apply*