In today's fast-paced business world, efficiency is key to staying competitive, especially in Malaysia's diverse and dynamic job market. Human Resource Management Systems (HRMS) have emerged as indispensable tools for businesses of all sizes.
Cost effective staffing and scalability. 
One of the primary functions of HRMS is to help HR scale its hiring needs fast, and thereafter manage the workforce efficiently with automations. This adaptability allowed them to focus on their core business while ensuring HR processes remained efficient.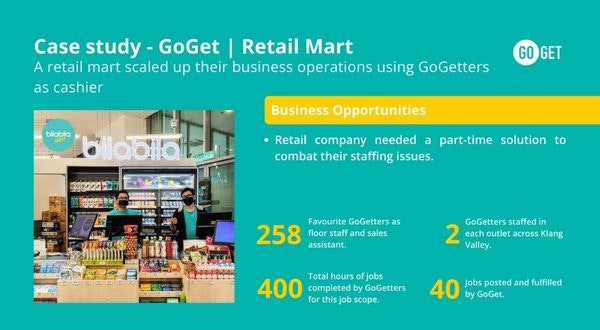 For example, BilaBila Mart, a fast growing local chain of retail mart, has used GoGet to hire and manage additional part timers for its multiple store fronts and newly opened ones, as part of its expansion plan. With over 200 workers they have worked with and eventually earmarked as "Favourite", the local mart has managed to expand to more than 10 retails in a short span of time, over 400 hours saved across more than 40 jobs.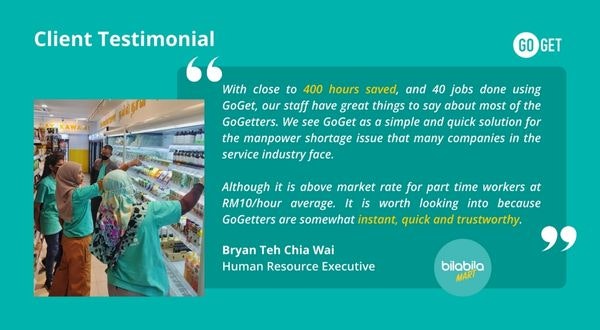 Targeted Hiring & Training
Giordano needed part timers to fill in as floor staff and sales assistant for its stores during Ramadan and Raya peak periods. GoGet's network of more than 120,000 GoGetters where more than 20% are Gen-Zs, fits right into their requirement for an energetic and vibrant workforce. 
The advantage of GoGet human resource management system as a solution to hire the younger generation is the convenient and new-age onboarding experience for workers to get verified, trained and try out different job scopes. Training is also customised according to Giordano's needs. 
Worker Engagement
Workers' satisfaction and engagement are also vital for productivity. Upon completion of the manpower project with Giordano, GoGet rewarded outstanding workers with gift vouchers. GoGet HRMS also allows workers to leave ratings and feedback on hiring managers, and vice versa.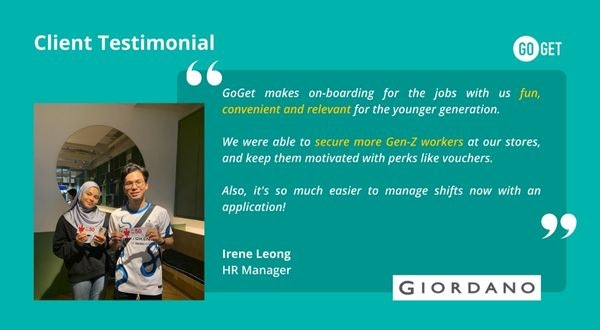 Time and Attendance Management
Time and attendance tracking can be a significant challenge, especially for companies with large part time workforce that works by the hour. GoGet human resource management system automates this process, reducing errors and ensuring fairness. HR and Operations Managers are empowered to check attendance and timeliness with GoGet's smart tech and GPS tracking system, adjust final payable fee to account for overtime or latecomers, and release payment all on GoGet app.
An Indispensable Part of Business Growth
In Malaysia's dynamic job market, HRMS systems are proving to be indispensable tools for businesses aiming to stay competitive and compliant while fostering a satisfied and engaged workforce. These real-world examples demonstrate how HRMS solutions are making a positive impact across various industries and locations in Malaysia, from tech firms in Kuala Lumpur to manufacturing companies in Johor Bahru. By harnessing the power of HRMS, Malaysian businesses can unlock efficiency and drive growth in the ever-evolving business landscape.