In the dynamic landscape of HR and workforce management in Malaysia, the role of technology is becoming increasingly prominent. With the rise of on-demand, part-time, contract, and full-time opportunities for workers. HR apps are essential tools for businesses looking to stay competitive. In this article, we'll explore the world of HR apps and how they can help you find and manage your workforce with ease.
Streamlining the Hiring Process
When it comes to finding and hiring workers in Malaysia, you need efficient tools to connect with potential hires and schedule them as per your requirements. JobStreet, FastJobs and GoGet Recruit are platforms that can help you post job listings and engage with a ready workforce. These platforms ensure you can quickly find the workers you need for your specific projects or tasks.
GoGet Recruit takes the process of applicant screening for recruitment to the next level. It displays real data of applicants' profile and work history, in its GoGet app, thus empowering HR managers to make informed-decisions on-the-fly, without having the hassle to download resumes and deal with different formats. 
Simplifying Creation of Multiple Shifts for Hourly Hiring
Managing multiple work schedules can be a complex task, especially if it's highly operational ones like hourly shifts for part timers in retail or hypermarket operations. Specialised HR apps for on-demand workforce in Malaysia like GoGet simplify the process of creating multiple hourly jobs at specific date and time, and number of workers. They allow you to create multiple shifts ahead of time with automatic worker replacement in the event of no-shows. These tools ensure that your shift allocation is well-organised and that you have the right people in the right place at the right time.
Worker Onboarding and Training
GenZs today gravitates to platforms that offer a convenient job application process, as opposed to tedious process with lots of paperwork. For white-collared jobs, Linkedin has been the go-to platform.
For gig work, GoGetter app (GoGet's worker app) has become the go-to app for hourly work in retail, hypermarkets, contact centres, and events. It offers a new-age experience with simple verification process, digital training and onboarding. 
GoGet also offers customised training programmes for companies who already have their training materials and process in traditional format, but lack the technology to digitise them. Through GoGet Train & Build, hiring managers can be assured that workers are well-prepared to perform their tasks efficiently and deliver quality work.
Time and Attendance Tracking
Accurate time and attendance tracking are essential for businesses in Malaysia. HR apps make it easy for employees to clock in and out. These apps also help you monitor attendance, leaves, and overtime, ensuring that your workforce's time is tracked accurately.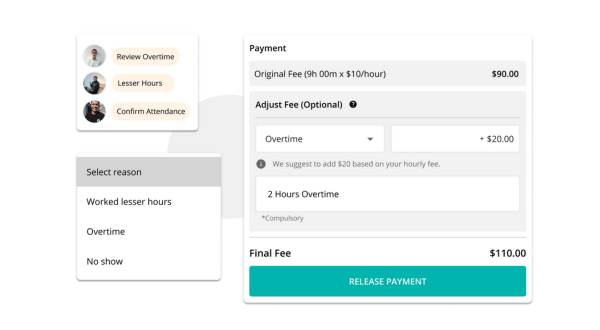 GoGet app allows you to check attendance and timeliness, check final payable wage, adjust if there's overtime or lesser hours worked, and release payment. 
Payroll and Benefits Management
HR apps like PayrollPanda and Gpayroll offer robust payroll and benefits management features. These tools simplify the process of processing payroll, calculating taxes, and managing employee benefits. This ensures that your workers are compensated correctly and that they receive the benefits they deserve.
Learn more about the full suite of HR solutions with GoGet HIRE, MANAGE, PAY, TRAIN and ENGAGE. 
Performance Evaluation and Feedback
Providing feedback and evaluating employee performance is crucial for continuous improvement. HR apps such as 15Five and EngageRocket allow you to set up performance evaluations, gather feedback from supervisors and peers, and create action plans for employee development.
Compliance and Data Security
HR apps in Malaysia are designed to help you stay compliant with local labour laws and regulations. They also prioritise data security, ensuring that your workforce's sensitive information is protected.
Conclusion
HR apps have become indispensable for businesses in Malaysia looking to hire, manage, and optimise their  workforce. Whether it's streamlining the hiring process, simplifying scheduling, ensuring compliance, or enhancing performance, these apps are designed to make your HR processes more efficient.
As you explore the HR app landscape in Malaysia, consider your specific needs and choose the tools that align with your business goals. By embracing the power of HR apps, you can transform your workforce management, save time, and focus on growing your business.