Introduction
The gig economy is on the rise in Malaysia and more are embracing the flexibility and opportunities it offers. For businesses tapping into this workforce, managing human resources efficiently is crucial. 
In this article, we'll explore how GoGet HR solutions are revolutionizing HR management for gig workers in the country. 
The Gig Economy in Malaysia: A Growing Workforce Trend
Before we dive into HR systems, let's take a moment to understand the gig economy in Malaysia. Gig workers are individuals who work by the hour, and often for multiple employers. This segment includes delivery drivers and low-to-medium skilled part timers. The gig economy offers flexibility but also presents unique HR challenges.
The Role of HR Systems in Managing Gig Workers
HR systems are no longer limited to traditional office settings. They should also no longer cater to only white-collared workforce management, or only full time positions. HR systems in Malaysia should evolve to cater to the dynamic nature of the gig economy. GoGet HR system offers a wide range of tools and features designed to address the specific needs of gig workers who work by the hour and shift, as well as contract and part time staff.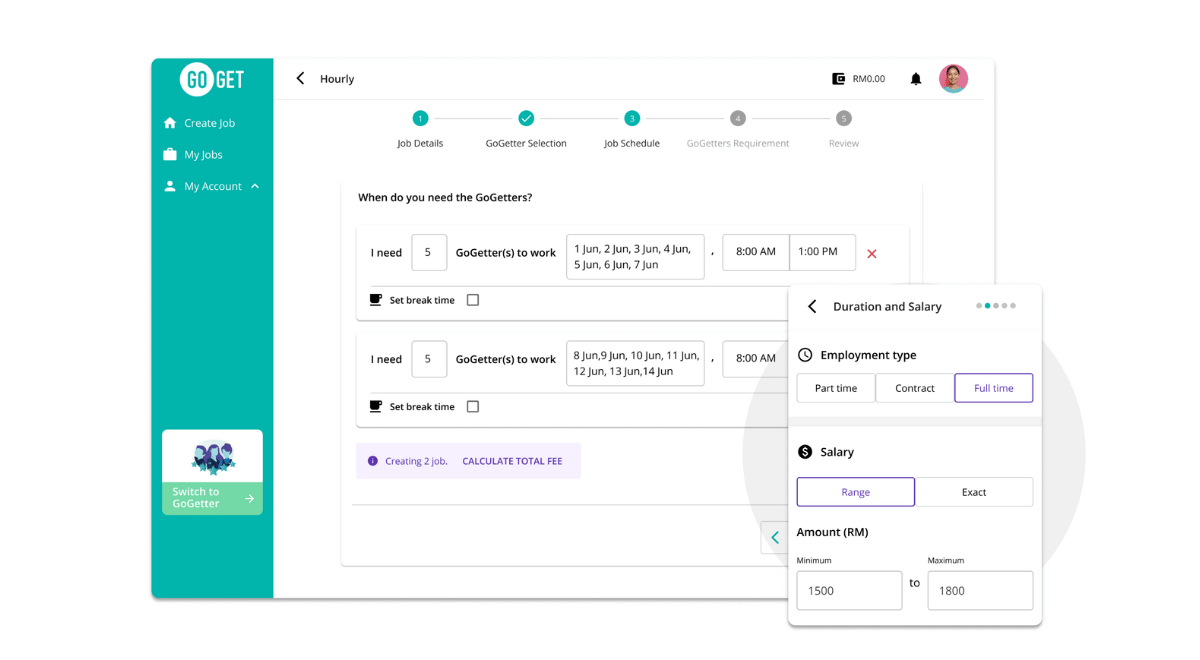 HIRE: Full Time, Part Time, or On-Demand
One of the challenges in the gig economy is the constant need for rehiring and fragmented channels to hire gig workers. HR systems in Malaysia like GoGet simplify the onboarding process, making it easier for businesses to post jobs and recruit gig workers quickly. Businesses can hire on-demand gig workers by the hour, on contract, part time or even full time. With streamlined digital processes, the time between posting a gig and having a worker onboard is significantly reduced.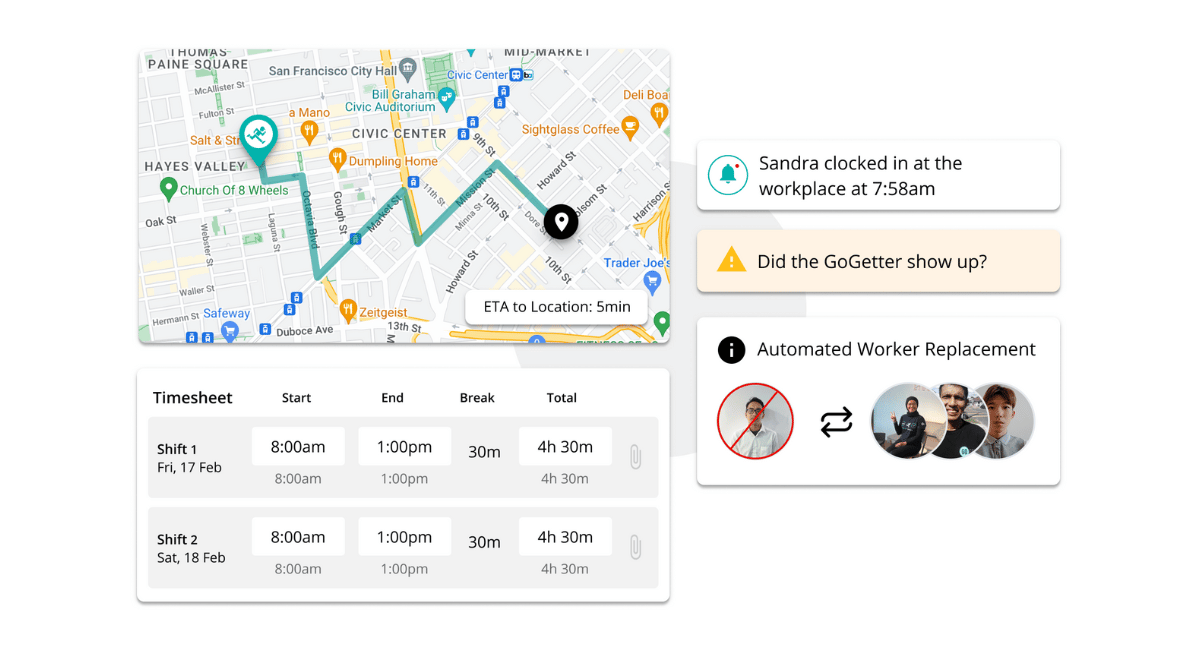 MANAGE: Attendance with Digital Timesheet
Effective attendance tracking is important for both businesses and gig workers. HR systems in Malaysia like GoGet offer smart tech with location and time check, empowering businesses to review and release payment accurately. For gig workers, this transparency can lead to improved job satisfaction. Also, automatic replacement will also be arranged.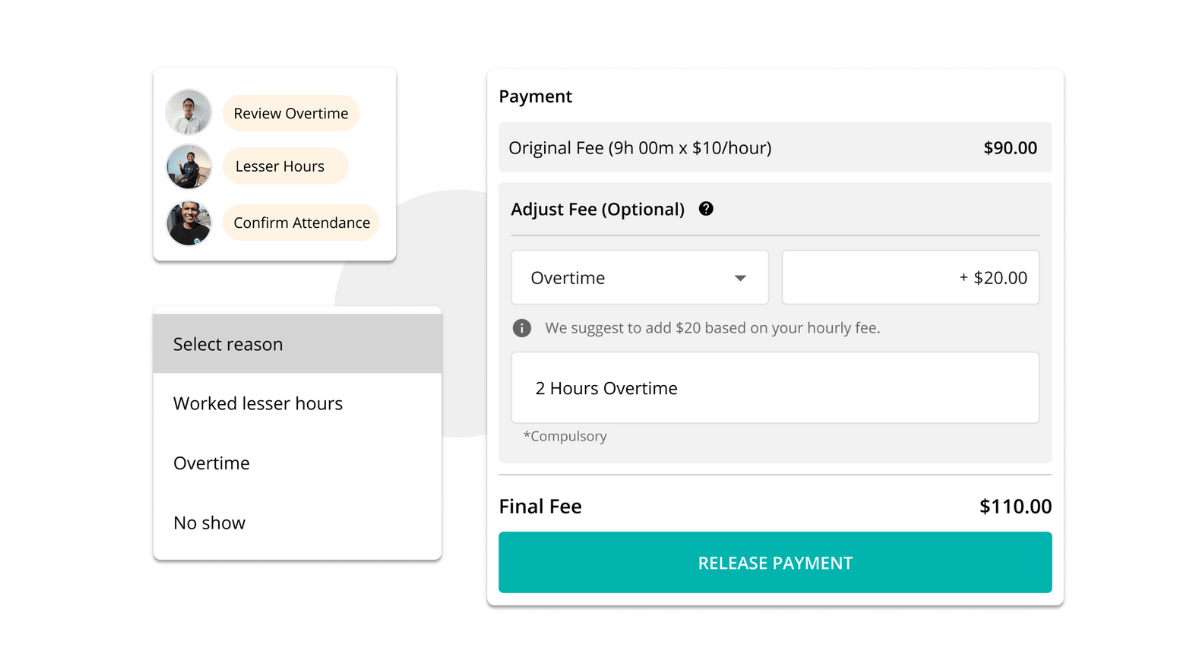 PAY: Cashless, Adjust and Release
Calculating and managing payments for gig workers can be complex due to varying work hours and payment structures. GoGet HR solution automates payroll calculations, ensuring accurate and timely payments to gig workers. Simply review total work hours, adjust the payment based on the actual work hours completed, and click to release payment.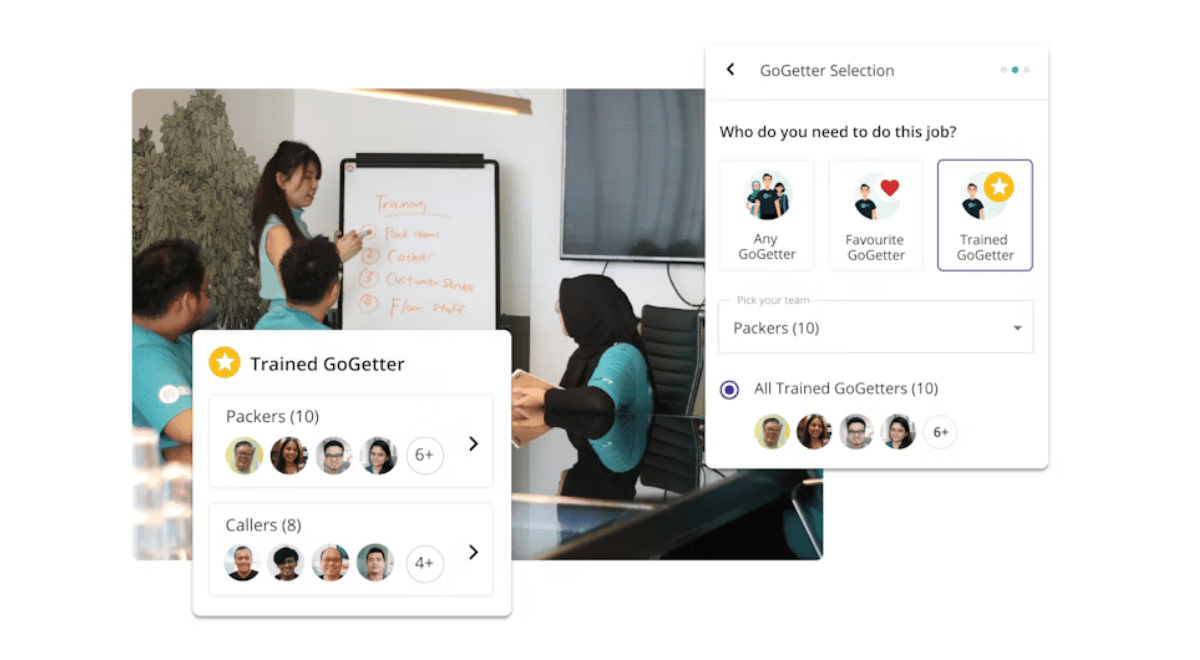 TRAIN: Exclusive Teams
Another challenge in the gig economy is the constant need for retraining or upskilling. GoGet helps exactly that with digital and offline training according to business process and SOP, or revised policies. Businesses can get an exclusively trained pool of workers, and engage them for on-demand shifts.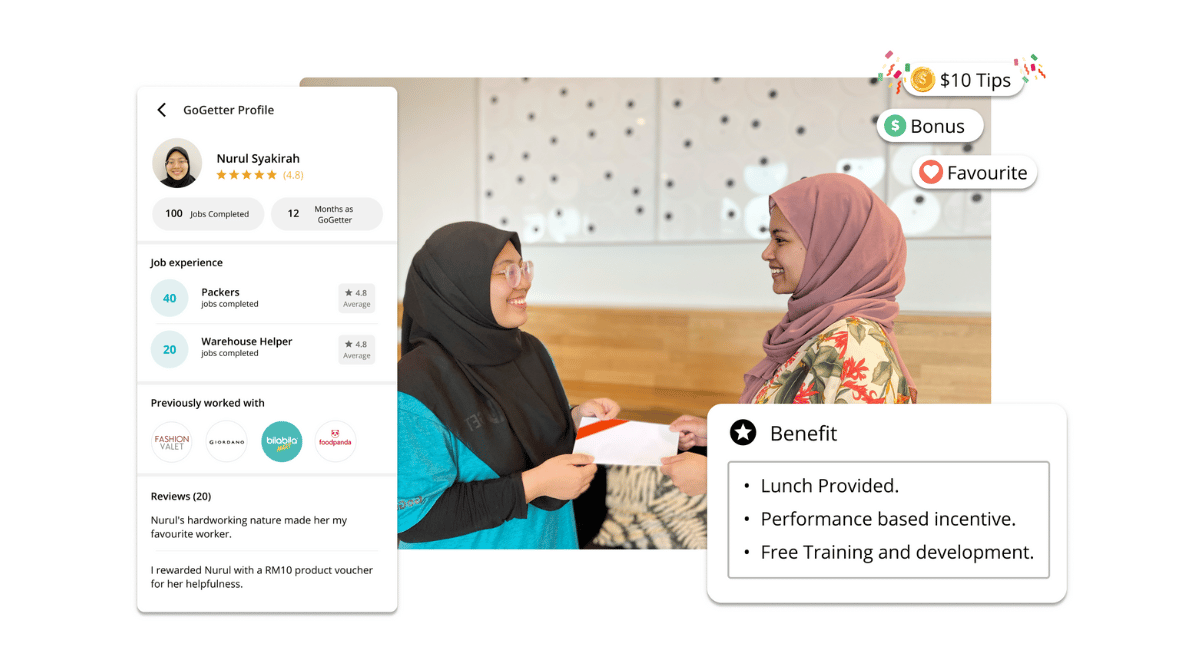 ENGAGE: Motivate with perks & tips
Communication is vital in the gig economy, where workers are very independent and self-driven. HR systems like GoGet leverage on technology to allow effective communication, support, and engagements to motivate workers.
Compliance and Legal Requirements
Navigating employment laws and regulations can be challenging in the gig economy. Riding on a layer of HR solution specialising on gig workers like GoGet, assures businesses on the right track with compliance and legal requirements. GoGet also ensures gig workers are protected in terms of financial and social security.
Future Trends of HR Systems for Gig Workers: 
The gig economy in Malaysia continues to evolve, and so do HR solutions. In the future, we can expect more integration with mobile platforms, advanced analytics for performance assessment, and enhanced security measures to protect gig worker data.
Conclusion
As the gig economy thrives in Malaysia, HR systems are becoming indispensable tools for businesses and gig workers alike. These systems streamline processes, enhance communication, and ensure compliance with regulations, ultimately contributing to a more efficient and satisfying gig worker experience. Embracing HR systems is not just a trend; it's a necessity for thriving in the gig economy.