Temporary workers are a growing part of the Malaysian business landscape and many companies in Malaysia resort to temporary labour hire through various temp staffing agencies. 
Temps work as freelancers, consultants, contract workers, seasonal workers and interns. The minimum age requirement for a local temp worker in Malaysia is 15 years of age. Foreigners should be between 18 and 45 years of age.
Temporary job services provide small businesses with a range of benefits. It is also a cost-effective way to replace employees on vacation, maternity leave, and sabbaticals. 
The reasons small businesses hire Temporary Workers instead of Full-time Employees
Flexibility
One of the benefits of contract work by hiring temp workers is flexibility. If a company does not want to spend time nor have the budget to hire a permanent employee, it can consult a temp agency to hire a temp by contract.
Temps are not part of the headcount
There are high costs involved with hiring permanent employees. If a company needs to hire someone immediately without increasing its total headcount, hiring a temporary worker will be a good idea.
Hiring temps can improve overall team performance.  
Hiring talented temps also works as an incentive for permanent workers to perform better. Besides, having an extra pair of hands can boost the morale of the existing team.
Temp workers can make an instant impact
If some permanent employees are absent due to maternity leave or vacation, a temp or interim can fill the gap and bring back efficiency to normal. 
Temps are often specialists
Many temps are specialists in certain niches and are ideal for short-term assignments. Temps can bring a high level of expertise to a project that requires certain skill sets.
How do Temp Agencies work?
The answer to the question "How do temporary staffing agencies work" is that these agencies have their own methods and protocols. 
Many companies need resources urgently, however, they do not have time to post on job portals  or sort through  hundreds of resumes, and interview candidates. Some companies might not even know where to start searching for temp staff who meet their specific requirements.
To save time, the company pays a fee to a temp agency to provide temp workers with specific skill sets. The agency then acts as the matchmaking middleman between the company and the temp staff. There might be a time when companies require more than 1 person for the job and that's where temp agencies play a very important role to manage the overall well-being and coordination of staff, making sure they are doing their jobs according to the contract and even just making sure they turn up on time.  
How much does a temp cost compared to full time workers   
"How much does a temp cost?" is a crucial question for companies. The average wage in Peninsular Malaysia is RM4.81 per hour and RM4.42 per hour in other states such as Labuan, Sabah, and Sarawak. 
If you hire through temp staffing platforms like GoGet, the average earning starts from RM9 per hour or higher, depending on the type of job as you pay for reliable and skilled part timers. 
In comparison, a permanent employee will cost you an estimated RM1,500 per month, according to the revised minimum wage to roll out from May 1, 2022.

Note: Additionally, full-time employees receive benefits, such as health insurance, paid annual leave, maternity/paternity, parking allowance, and more. All of these add significant costs for employers.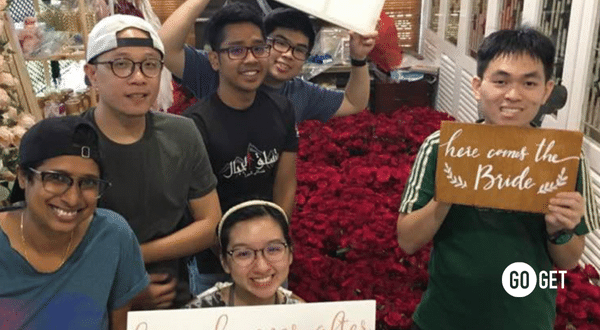 Benefits of hiring from Temp Agencies
Gives the option of hiring on a trial basis
Hiring from  temp staffing agencies allow companies to try out a temp worker and determine if he/she would be a good fit in the company should they offer a longer-term contract. 
Fill positions fast
Temp staffing agencies keep a pool of readily available talents for various industries and can fill a position fast. Temp agencies can help a company find the right talents up to 80 per cent faster. Companies can hire more than 1 skilled employee at a time and still stick within a budget.
Access to specialist workers
Temp staffing agencies have a vast network of workers who specialise in various in-demand industries. The specific skill sets of such candidates can save a lot of recruitment time. 
Increased flexibility
By hiring temp workers from temp agencies, companies can have the flexibility to adjust their workforce to the changing business needs. 
How to hire from Temp Agencies
Decide which type of temp worker you need
Before consulting a temp agency, decide whether: 
Your business needs temps to help during the peak season.

You are looking to fill the gap as a permanent employee is on long leave.

Your company has a new position, but you are still not ready to hire a full-time employee.
Choose between a temporary worker and temp-to-hire
A temporary worker is for filling a gap for a short period or over a project timeline. A temp-to-hire is an option to hire an individual for a trial period to see how it works out.
Research temp agencies 
Many temp staffing agencies in Malaysia provide temp staff for specific industries. You need to hire an agency with the expertise to get you the right candidates.
Discuss job details and wages with the temp agency 
After shortlisting a temp agency that specialises in your industry or the job type, discuss the job requirements in detail, including payable wages and potential perks and benefits such as paid lunches or incentives. 
Before we go
We can see from the above pointers that there are certain advantages of hiring temporary workers over full-time staff. However, you would need a reliable marketplace or platform to get a verified workforce to do the job. GoGet does exactly that by running a systematic, technology-based and proven system to fill the resource gaps and provide large-scale employment in Malaysia.