Have you ever wondered how you can earn passive income on GoGet? Well, we got the answer for you. 
For this month's GoGetter Spotlight, we will be featuring one of our top GoGetter referrers, Zahidah binti Mohd Fuad. She became a verified GoGetter in June 2022 and has started earning a passive income by referring over 112 people in July alone. Isn't that awesome?
Keep reading to find out more about GoGetter Zahidah.
GoGetter Zahidah is a Sales Administration Executive based in the Klang Valley. As someone who has a full-time job and is successful in her role, we can't help but be curious about what made her join the GoGetter community. According to GoGetter Zahidah, her favourite part about being a GoGetter is that she not only enjoys high pay for completing simple tasks but also gets paid instantly and securely. Additionally, she loves the flexibility of GoGet jobs. As someone with a full-time job, the ability to choose hourly gig jobs outside of her regular work hours makes it easier for her to earn money in her free time.
If she looks familiar to you, you've probably seen one of her viral TikToks! In that short TikTok video that has over 41,000 views, she shared her experience doing a GoGet job and showed her viewers how easy it is to earn money as a GoGetter. According to GoGetter Zahidah, this was her favorite GoGet job since she got to stay at a hotel for free. Free staycation? Who could say no to that? It was so inspiring to see how she utilized her social media platform to effectively encourage many to become a GoGetter. She truly embodies the  GoGetter value of "Taking Intiative" by doing her very best to answer all the inquiries about how to get started as a GoGetter.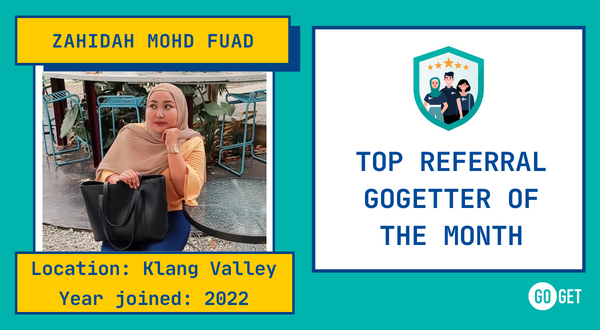 Last but not least, GoGetter Zahidah also left some advice for others who are interested in earning money through GoGet. She said, "Just be happy and enjoy the work." Nice one, GoGetter Zahidah! Simple but very important advice. Sometimes we get so caught up in life  and forget to actually enjoy what we're doing and simply be happy. Ingat tau semua, kerja GoGet ni kena enjoy je. Baru la seronok jadi GoGetter! 
Thank you for being such a wonderful inspiration to the community, GoGetter Zahidah!  We wish you the best of luck in your future endeavours and hope you will  continue to enjoy working and earning in your free time as a GoGetter!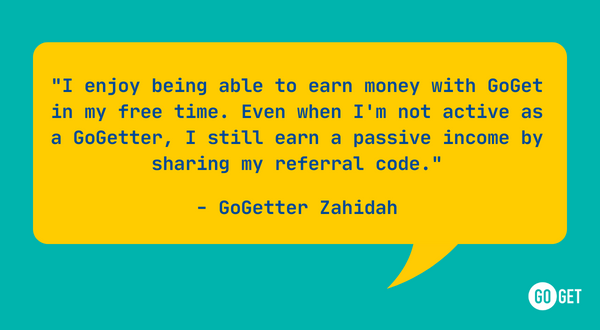 Interested to earn passive income through GoGet like GoGetter Zahidah? You're in luck, because the new 'Share Job' feature makes referring friends and family even easier. See a job you think they'll like? Just share it! More information can be found here. 
Not only that, the more you share jobs in August, the higher chance for you to win a grand prize worth RM248 in the #imgogetter Share Job contest. Tunggu apa lagi, share share share!
P/s: Do you know a GoGetter who deserved to be spotlighted? Or do you think you have what it takes to be spotlighted?
Send your nomination (or you can also nominate yourself) in this form here. We will contact you should you be shortlisted and featured in next month's GoGetter Spotlight. There will also be a mystery prize waiting for you & your nominee*.
*Terms & conditions apply*